ME5MLHLPG – Mercury – Portable – Propane
High displacement & propane fuel deliver a clean-burning, powerful and easy-to-operate portable outboard
Mercury's new 5 hp FourStroke Propane outboard provides more convenience and less hassle. Now you can power your boat with the same propane used for your grill and eliminate the need to haul gasoline.
The 5 hp FourStroke Propane outboard with a large 123 cc displacement offers best-in-class power by delivering a true 5 hp – something our competition can't claim.
HP / KW – 5 / 3.7
Engine type – 1 cylinder
Displacement – (CID/CC) 7.5 / 123
Full throttle RPM – 5000-6000
Fuel induction system – 2-valve pushrod (overhead valve)
Recommended oil – Mercury FourStroke Oil 10W-30
Engine protection operator warning system – Low oil pressure/Over-rev
Starting – Manual
Steering – Tiller
Shaft length available – 15″ / 381 mm 25″ / 635 mm
Gearcase ratio – 2.15:1
Dry weight *Lightest model available – 57 lbs / 26 kg
Bore and stroke – 2.32 x 1.77″ / 59 x 45 mm
Ignition – CDI w/electronic spark advance
Fuel system – Propane Mixer
Cooling system – Water-cooled with thermostat
Gear shift – F-N-R
Gearcase options
Standard Trim positions – 6
Exhaust system – Through prop
Shallow water drive – Yes
Shallow water trim range – (degrees) 16
Color – Phantom Black
JAN. 17, 2019
New Mercury 5hp Propane FourStroke is powerful, convenient and reliable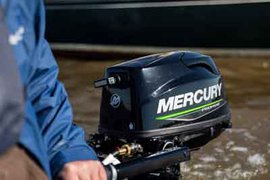 Fond du Lac, Wis. – The new Mercury 5hp Propane FourStroke delivers no-hassle portability, reliability and convenience running on alternative clean-burning fuel – whether it's powering aluminum boats, inflatables or sailboats.
With a large 7.5 cubic inch (123cc) displacement, the new 5hp FourStroke Propane outboard offers best-in-class power by delivering a true 5hp. Starting at just 59.5 pounds (27.2 kilograms) the 5hp Propane FourStroke is light and easy to carry or transport. And you can run it on the same conventional propane you're probably using in your backyard grill, so there's no gasoline to haul with the engine. With a safety-first approach, the outboard comes standard with a propane auto shut-off valve on the engine and in the fuel hose connector. The standard 6-foot (1.8-meter) fuel hose threads quickly and easily to the outboard and comes with a standard US POL connector on the tank side. A 20-pound (5 gallon) tank of conventional propane provides approximately six hours of boating at full throttle.
"This is Mercury's first outboard to run on clean-burning propane fuel," said Jim Hergert, Mercury's category manager of outboards 60hp and lower. "Propane doesn't degrade or contain ethanol, so you don't need to worry about what type of fuel to run or how fresh it is. The pressurized fuel system eliminates priming, making the outboard easier to start, and the auto shut-off valves are there for safety. "In short, it's a very eco-friendly, easy-to-use, reliable and intuitive outboard."
Starting is made easy with the manual choke, which enriches the fuel-to-air ratio for fast and reliable starts, particularly when the engine is cold. Auto decompression reduces the pull force when using the starter rope. The 5hp Propane FourStroke sports an easy-to-reach shift lever on the engine and has six tilt positions with a shallow-water drive to set the outboard where you need it.
Sail Power Version
Sail Power models are designed for boaters who use a small outboard to pilot their sailboat. The Sail Power model is offered in 20-inch (508 mm) and 25-inch (635 mm) shaft lengths, and additional features include:
12 Volt, 4 Amp / 50-Watt alternator charging system with cable allows sailors to charge a battery to run electronics or lights
Reverse-thrust exhaust relief and high-thrust propeller improves slow-speed handling and control