DF300APX – Suzuki – SPC – High Performance
Availability:
Out of Stock
Contact us for more information!
"The Ultimate 4-Stroke Outboard"
Since its introduction, Suzuki's flagship 300 HP V6 has been a showcase for advanced technologies and designs. The award winning DF300AP incorporates "Suzuki Selective Rotation" – the world's first outboard that combines standard and counter-rotation operation into the same lower unit. Two-Way low water pick up inlet provides engine cooling with increased water flow. The DF300AP also features "Suzuki Precision Control". This fly-by wire control offers silky smooth shifting and throttle response. The addition of "Suzuki Lean Burn Control" with "Oxygen Sensor" can provide an improvement in fuel efficiency, especially while cruising on the long run home . Go with a Proven Winner, Go Suzuki.
Transom Height – XL: 25 (in) – XXL:30 (in)
Starting System – Electric
Weight – XL: 638 (AP Model) (lbs) – XXL:658 (lbs)
Engine Type – DOHC 24-Valve
Fuel Delivery System – Multi Point Sequential Electronic Fuel Injection
Piston Displacement – 4028 (cc)
Bore x Stroke – 98 X 89
Max Horse Power 300HP
Operating Range – 5700 – 6300 (RPM)
Steering – Remote
Oil Pan Capacity – 8.5 (8.0) (L)
Ignition System – Solid State Direct Ignition
Trim Position – Power Trim and Tilt
Gear Ratio – 2.08:1
Standard Propeller – Not Included
Propeller Selection – 15 – 27.5(R/R) 17-26 (C/R)
SUZUKI SELECTIVE ROTATION
In multi-outboard installations on large boats, a counter-rotation outboard is usually paired with a regular rotation model to help keep the boat traveling on an even keel and in a straight line. The DF300APX is built with special counter rotating gearing in the lower unit, which causes the prop to rotate in the opposite direction. Suzuki Selective Rotation eliminates the need to purchase a dedicated counter-rotation outboard by using a special switch that when connected to a circuit inside of the engine compartment, turns a regular rotation outboard into a counter-rotation model with a counter rotational propeller.* This industry first is made possible through a special, unified design of gears, shaft, and bearings in the lower unit that are designed to operate reliably and efficiently in either regular or counter-rotation directions.
SUZUKI'S LEAN BURN CONTROL SYSTEM
Suzuki's innovative Lean Burn Control System was first introduced on the DF90A/80A/70A to great acclaim from boaters and the media alike. It predicts fuel needs according to operating conditions allowing the engine to run on a more efficient fuel mixture through the use of a lean air-fuel ratio. It delivers its benefits over a wide operating range, providing significant improvements in fuel economy from low-speed operation into the cruising range. Combining this system with the Suzuki Precision Control electronic throttle and shift system allows the operator precise control over engine RPM for improved fuel economy over a wider operating range. This combination also delivers smooth power transitions throughout the entire RPM range. In-house testing shows that while cruising, the DF300AP is 14% more economical than the original non-Lean Burn DF300 without sacrificing any power of the original DF300.
SUZUKI PRECISION CONTROL
Suzuki Precision Control is a technologically advanced computer-based control system that replaces the mechanical control cables found in conventional control systems with electronic wiring that eliminates the source of friction and resistance. While you enjoy smooth throttle and shift operation with minimal friction, the system's computer is processing and transmitting commands in real-time to actuators at the engine that deliver precise throttle control with smoother, decisive shifting. This is most evident in the low rpm range where operation is noticeably smooth and accurate. When combined with Suzuki's Lean Burn Control System it allows control of fuel and air flow to boost the limit of the controllable revolution range improving fuel economy over a wide operating range. Suzuki Precision Control also features built-in systems that help guard the engine and drive against damage due to mishandling, and its design and simple wiring make installation easy, reducing the time required for rigging and adjustment. The system offers precision control for single, twin or triple installation as well as dual station operation.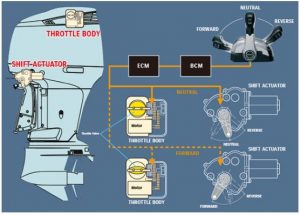 ***Also available in White, call for Details
***Counter Rotating and 30″ XXL models available
***Available in White by Request, call for Details