Contact us for more information!
POWER WITH PASSION
THE NEW DF300B
We are proud to introduce our NEW DF300B – an outboard that perfectly balances awesome power and thrust, with outstanding fuel-efficiency and trusted reliability all in a lightweight and stylish design.
Built for every-day use of larger boats, this market-leading new outboard has been engineered to run on 91 RON fuel and, is the world's first four stroke outboard of 300 horsepower with a dual propeller (Suzuki Internal Research).
This high-tech and innovative DF300B has been designed to be robust, easy to use and versatile, making it the ideal outboard for large boats whatever the task.
Whether you are using your boat for work or for leisure, wherever you are in the world, this new outboard is the ultimate choice.
Transom Height – X: 25 – XX: 30 (in)
Starting System – Electric – Suzuki Start System
Weight – X: 726 – XX: 745 (lbs)
Engine Type – DOHC 24-Valve
Fuel Delivery System – Multi Point Sequential Electronic Fuel Dual Injection with Lean Burn and Oxygen Sensor
Piston Displacement – 267.9 (4,390) (cc)
Bore x Stroke – 98 (3.74) x 97 (3.82)
Max Horse Power – 300HP
Operating Range – 5300 – 6300 (RPM)
Steering – Remote
Oil Pan Capacity – 8.5 (8.0) (L)
Ignition System – Solid State Direct Ignition
Trim Position – Power Trim and Tilt
Gear Ratio – 2.29:1
Standard Propeller – Contra-Rotating Propellers *Not Included*
Propeller Selection – 12″-31.5″
***Available in White and XL: 25″ leg, call for Details
DEVELOPMENT OF SUZUKI'S FIRST CONTRA-ROTATING PROPELLER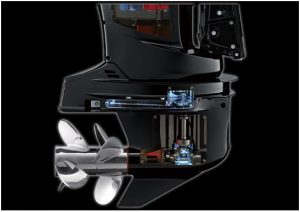 Our engineers know that the shape of the lower unit and the design of the propeller have a critical impact on performance. The innovative contra-rotating propeller design provides more grip underwater, and because contra-rotating propellers distribute the engine's torque evenly over two propellers, the torque per propeller decreases and gear diameter can be reduced. A reduction in gear diameter has allowed the design of a smaller, and far more hydrodynamic gear case.
GEAR CASE DESIGN
At high speeds cavitation can cause significant losses in speed and grip. The New DF300B overcomes this with a highly advanced gear case design. Computational fluid dynamics (CFD) and countless test drives, have resulted in a breakthrough design that not only minimizes resistance but also provides a highly efficient flow of water to the propellers.
PROPELLER BLADE DESIGN     
The new three-blade/three-blade propeller set up has been developed that provides incredible acceleration and increased performance. In testing, this configuration recorded the highest speeds, even under heavy load and at high rotation speeds. The propeller blade geometry has also been optimized to work in the configuration resulting in incredible grip and acceleration across the range. An added benefit is exceptional stability, achieved because each propeller rotates in a different direction, balancing the turn.
HIGH REVERSE THRUST             
With six blades rotating, the contra-rotating propeller produces a strong reverse thrust. The materials of the new DF300B gears are ultra-strong to withstand high loads and feature special heat treatment to give additional strength and reliability.
THE COMPRESSION RATIO
The ultimate Suzuki outboard is always aiming to be lighter and more powerful. The new DF300B features our proven 4.4 Liter displacement block giving tremendous torque and making it the largest displacement V6 on the market today. Plus, with a compression ratio of 10.5:1 the DF300B also delivers impressive fuel economy and reliability.
DIRECT INTAKE SYSTEM AND DUAL LOUVER SYSTEM FOR COOL AND DRY AIR 
Achieving a flow of cooler, drier air directly into the engine is made possible by the unique combination of the Direct Intake System and the Dual Louver System. This revolutionary approach ensures a direct flow of air whilst eliminating water intake, even in the face of the most severe on-water testing. The Dual Louver System incorporates a double shield of blades, each one designed in a dog-leg shape. This system helps remove water from the air and prevents water to be taken into the cowl. As a result, intake air is free of moisture and kept close to ambient temperature.
DUAL INJECTORS FOR BOTH COOLING AND POWER 
Injecting fuel achieves two things, it atomizes the fuel and it cools the cylinder.
To provide the power and cooling needed, the fuel must be completely injected at precisely the right time and angle. The all new Dual Injector System uses two smaller injectors giving immense precision, improved atomization and increased fuel efficiency.
ATTENTION TO DETAIL – TECHNOLOGICALLY ADVANCED PISTONS 
With the higher compression ratio, more is being asked of the piston than ever before. Not only does the surface have to withstand greater forces, but the connecting rod and hardware do too. To help the piston withstand the added lateral pressure, the change to shot peening from the standard surface treatment was conducted. Shot peening creates fine dimples on the surface that evenly distribute the pressure created during combustion. We are proud to say that we were able to create a piston worthy of the "ULTIMATE" title.
DUAL WATER INLET                                     
Dual water inlet is a technology developed to cool the engine with minimal friction loss, using a combination of a small water pump and dynamic water pressure. Conventional outboards have water inlets on the side of the strut of the gear case. However, at very high speed, the water pressure at the strut surface is reduced, making it difficult to maintain stable water suction. The DF300B has water inlets on the tip of the gear case, which helps with water suction even when there is dynamic pressure caused by the movement of the gear case through the water.
SUZUKI COMBINES HUGE POWER AND MAXIMUM EFFICIENCY 
Our engineers set out to build a compact, lightweight outboard that combines the high power required, alongside the operating efficiencies that cannot be achieved by using technologies such as turbocharging or supercharging. Additionally, they set the goal of making the DF300B run on low octane, 91 RON fuel, which combined with legendary Suzuki reliability makes the outboard ideally suited for a wide variety of large boats around the world. The traditional single propeller design creates forward thrust, but also produces a significant amount of rotational energy. Our engineers have captured this wasted energy and turned it into productive power by utilizing our revolutionary dual-propeller technology. They have solved the problem of the disruption of the water flow, caused by the larger gear case, typically needed by higher power engines. Years of research and innovation have gone into developing the technologies that significantly improve the way an outboard converts engine power into underwater thrust. The result is a revolution in innovation. We call it 'GEKI'!